Basic Safety Specifications for Textile Products
Chinese mandatory national standard GB18401 National general safety technical code for textile products is the most far-reaching mandatory standard specific to textile products, winning widespread attention both at home and abroad. It is the primary requirement for domestic and overseas textile products to enter the Chinese markets and the necessary basis for national quality supervision.
Technical requirements of GB18401-2010 are shown as follows: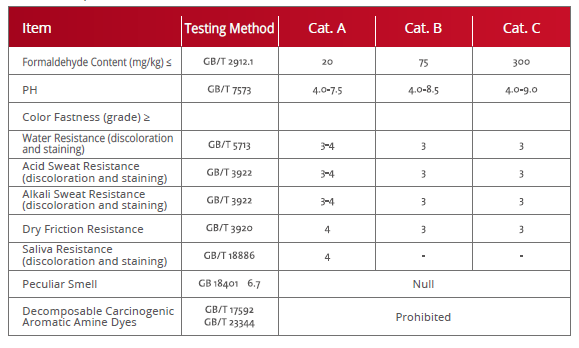 Labeling Requirements for Product Conformity
Based on the product type and technical requirements, baby products fall into Category A. Category B and Category C are direct skin contact and in-direct skin contact respectively.
Other Mandatory Standards
Apart from the GB 18401 on textile products, there are also other mandatory standards that are applicable to specific products in apparel and footwear industry,
GB 20400: Leather and fur – Limit of harmful matter
GB 25036: Children's canvas rubber footwear(shoes)
GB 25038: Rubber shoes healthy and safe specification
GB 30585: Safety technical specifications for children's footwear
GB 31701: The safety technical code for infants and children textile products
How can UL help you?
Throughout the entire lifecycle of products, UL and clients will make concerted efforts to assess risks and work out inspection plans, evaluate the quality, safety and performance of textiles and apparel. From selecting raw materials to inspecting finished goods, UL fully understands the standard values affecting the chemical and physical properties of products, therefore reducing risks for clients and making products desirable in the Chinese market.
As an industry leader and a reliable partner, UL has an established global network to provide consumer products and retail services and deep understanding of requirements of textile testing.
Services available at UL:
Product testing
Care instructions and label review
Product inspection
Chemicals management
Risk assessment of children's apparel
Fiber identification
Business standard setting
You can contact us to learn more.