Testing and analysis of your products and the environmental aspect of your articles with a chemical management plan can help you better control chemical substances use, according to local legislation and worldwide initiatives.
Chemical safety evaluations for your products
Every day, chemicals are present in all consumer products we buy: from food and beverage to apparel, from toys to personal care articles, from cosmetics to juvenile products.
Most industrialized nations have recognized the need to regulate the presence of chemicals in finished products and have developed specific requirements based on risks that these substances can pose to human and environmental health.
These regulations and their restrictions vary across regions making the process of accessing the global marketplace complicated:
REACH
Directive 2009/48/EC on toy safety and related EN technical standards
With first-hand knowledge of international chemical safety standards and a global network of high-tech laboratories, we verify chemical safety for your plastics, natural and synthetic fibers, industrial chemicals and all types of consumer products. Our goal is to help you navigate the complex regulatory landscape.
From chemical testing of textiles to chemical migration and food contact materials as well as a specialization in children's product chemical safety or specific chemical legislation, UL experts have full knowledge of the subject.
In addition, our quality assurance and chemical management services teams can help ensure regulatory compliance for every country in which you source or sell.
California Proposition 65
If your business operates or sells within the United States, in particular, the state of California, it is imperative you are aware of the Safe Drinking Water and Toxic Enforcement Act of 1986 known as Proposition 65 or Prop 65. UL has the capabilities and subject matter experts to help your company not only to understand Prop 65 but assist in verifying your products are in compliance with all the requirements.
For the full list of the 850+ chemicals included in this list please click here. Or if you would like to learn more, click here.
Sustainable chemistry and supply chain management: textile, apparel, leather, and footwear
Chemical safety is also evaluated on specific parts of your production process.
Minimizing possible damage to ecosystems and communities is a growing concern for businesses, particularly those in the textile and footwear industries. To support this drive towards environmental responsibility, we offer onsite wastewater assessments and testing solutions based on the Zero Discharge of Hazardous Chemicals (ZDHC) principles.
UL's onsite wastewater assessments examine water use, wastewater management systems, and chemical management systems to identify related risks.
We help you to set up your Detox plan: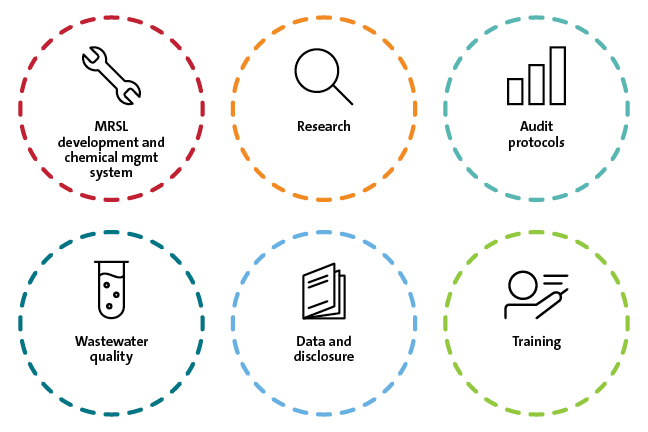 Our chemical experts can help you with every aspect of chemical management, from developing a Manufacturing Restricted Substances List (MRSL) to implementing a reasonable testing program that encompasses the entire supply chain.
Our involvement in the ZDHC project
UL partners with clients to help with every aspect of sustainability and supply chain management. We specialize in testing for the chemicals of concern identified by the ZDHC Program.

Our services for your chemical management and wastewaters:
Wastewater sampling
Wastewater assessments based on ZDHC principles
Testing on ZDHC conventional and unconventional parameters
Conformance certification and testing to ZDHC MRSL Level 1
Chemical management audits
Environmental audits
Training and education
We also count in our team of SAC verifiers and amfori BEPI auditors.
What are the benefits for your business?
Throughout your supply chain, UL's chemicals management services can help to:

UL Verification Mark helps set your products apart
Customers around the globe demand more transparency from the brands they choose. With scientific rigor, UL evaluates the validity of specific advertising or promotional statements.
The UL Verified Mark helps set your product apart in the marketplace and increase credibility to your product claims.
Communicate truth and transparency on your product labels through our marketing claim Verification program to give your customers greater peace of mind.
Learn more about UL Verification Mark or contact us for more information.