Brand trust is paramount for consumers of today in a highly-competitive retail environment flooded with endless product options. With increasing preference from consumers given to store brands, often due to pricing advantages, retailers are faced with a new challenge to react quickly all while delivering safe and quality products. UL's holistic approach to evaluating private brand products takes the challenge out of your supply chain. We provide support in brand innovation, product differentiation, regulatory compliance and ultimately cost savings for your consumers.
Our state-of-the-art, FDA registered laboratories have full analytical, microbiological, physical, shelf-life and performance testing capabilities. We use recognized testing methods to help verify that consumer products and packaging are safe, feasible to manufacture, stable and compliant with all applicable regulations.
We offer a full suite of services for private label products, at any stage in the supply chain from product conception to the retail shelves. Our global inspection services provide a key checkpoint in any global quality assurance program to help verify that private label products meet specifications prior to release and shipment. Our Supplier Quality Audits and Certifications help you build and monitor quality systems while our responsible sourcing services can help you address supply chain responsibility issues and fulfill corporate social responsibility goals. Additionally UL's Everclean® solutions can set your brand apart and protect your reputation through a rigorous food safety and sanitation program.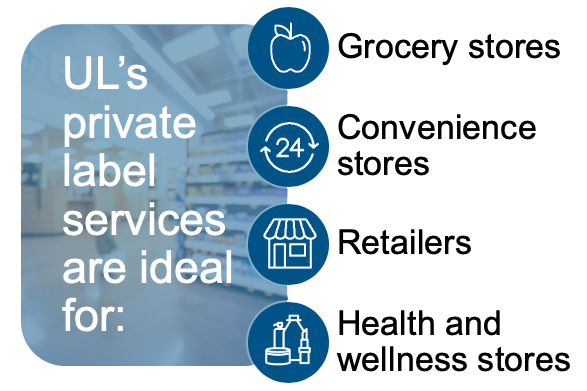 The breadth of industries served within UL's Private Brand Solutions provide a comprehensive view into product performance, covering the following categories:
Consumables
UL's quality assurance services help you develop and evaluate products against national brands in order to meet or exceed your customers' expectations. We offer:
Quality compliance testing
Regulatory compliance testing
Performance testing
Claims substantiation
Label review
Shelf-life and stability testing
Product specification development
Corrective Action Preventative Action (CAPA) management
Protocol development
We partner with clients throughout all phases of the supply chain and provide customized end-to-end quality assurance solutions. Contact us today to learn how.