MktoForms2.loadForm("//app-ab11.marketo.com", "365-LEA-623", 19812);
MktoForms2.whenReady(function(form){
form.vals({ "formControl":"CRS-Services",
"po_division":"CRS",
"po_subindustry_gos":"Toys & Juvenile Products",
"pageURL":window.location.href,
"pageURLReferral":document.referrer
});
});
Toys
UL's toy safety testing programs help you meet global regulatory compliance through our expert knowledge in the industry. We have solutions to address common requirements such as ASTM F963, European and GB mandatory standards, CPSC requirements, and REACH regulation.
Our comprehensive suite of services include toy safety testing, certification, quality assurance inspections, responsible sourcing, sustainability, marketing claim verification, and critical business intelligence solutions.
Protecting children and your brand reputation
With unmatched industry expertise, UL's global team of experts can develop comprehensive quality assurance programs to help ensure compliance with regulatory requirements and brand specifications. Thanks to UL's active involvement in the development of international toy safety standards, we can directly help you meet your compliance requirements for toy safety.
No matter where in the world you source or sell, our network of accredited laboratories and field services can help mitigate supply chain risk and launch products that delight both children and parents.
Our global accreditations
UL is accredited by several accreditation boards and associations, including ACLASS, UKAS, CNAS, CMA, and HOKLAS. Additionally, UL is registered with the Consumer Product Safety Commission (CPSC) as an accredited laboratory for CPSIA third-party testing. Our worldwide laboratories perform toy safety testing to all regional regulatory requirements including California Proposition 65, and Chemicals of High Concern State legislation (e.g., Washington, Oregon, and Vermont).
Our laboratory in Italy, IISG, is accredited by CGCRE (Coordenação Geral de Acreditação) for the Brazilian market — accreditation n. CRL 0482 — and holds Notified Body Status under the EU Toy Safety Directive.
We have a comprehensive suite of services, including toy safety testing, certification, quality assurance inspections, responsible sourcing, sustainability, and critical business intelligence solutions.
Testing
UL toy testing services perform vital assessment against global standards at laboratories all over the world, fully supporting the toy manufacturing industry's drive to bring safer products to market.
Advisory services
Our advisory and training services address several needs, from developing a product to efficiently getting it onto the shelves in all target markets. We help our customers to advance their businesses in an increasingly competitive landscape.
Chemical management
UL can help you address increasing concerns related to the adverse effects of chemicals in the environment and human health. Our technical experts will assist you in defining a strategy to reach your goals.
Sustainability
Nowadays, sustainability is a critical component of your business strategy. UL can help you induce positive environmental and social impacts through its responsible sourcing and environmental responsibility solutions.
Global market access
Understanding how compliance requirements apply to your products on a global scale can be challenging. We help you keep pace with evolving compliance requirements and get a real understanding of your target market's regulations.
Connected toys
Consumer demand for electronic and wireless toys is increasingly on the rise for the connected toys market. UL helps you identifying and understanding the measures needed to protect children when using these devices.
Audits and inspections
UL helps ensure that brand specifications, standards, and best practices are fully understood and implemented by every link in your value chain. Our global team of inspectors brings local presence and increased expertise to your business.
Data management: PATH® SmartSuite
UL's PATH® SmartSuite solution is a web-based platform providing a single unified view of various tools and resources. The system helps our clients manage their testing, inspection, audit, and certification programs.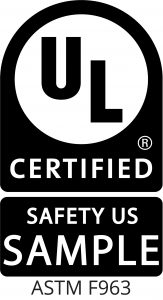 UL marks for toys
Customers around the globe demand more transparency from the brands they choose.
Are you looking for a way to differentiate your products and strengthen consumer confidence in the quality and safety of your products?
Find out more about UL Toy Safety Certification Mark to demonstrate your company prioritizes quality and safety and UL Verified Mark to make your marketing promises credible.
Contact UL today for further details.