With unmatched toy safety expertise, UL's team of quality assurance experts is uniquely positioned to support the toy manufacturing industry's drive to bring safer products to the world market.
UL experts develop comprehensive toy safety and quality assurance solutions.
UL assists customers in developing comprehensive toy safety programs including age grading determinations, design evaluations, safety and risk assessments, chemical management, EC type examinations, and toxicological assessments.
We help our customers to mitigate the risks associated with global sourcing to protect your brand reputation and build consumer confidence and loyalty.
We're with you every step of the way, from design to shelf, with services that include:
Design evaluations and safety assessments
Human factors evaluations
Chemical management
Toxicological risk assessments
Restricted substance evaluations
Sensory and consumer studies
Label evaluation and verification
We offer a comprehensive portfolio of testing and assessment services, including:
Mechanical and physical testing
Construction and workmanship
Stability and durability
Load and overload capacity
Small parts choking hazards, sharp point and edge assessments
Impact, torque, tension and compression
Flammability of solids and flashpoint of volatile materials
Heavy metals content in surface coatings, and substrate materials
Toxics in packaging testing
Antimicrobial effectiveness
Quality and defect inspection services
Factory audits (quality management, social responsibility, and others)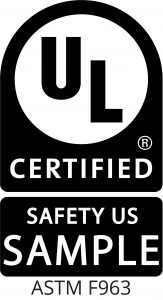 UL is registered with the U.S. Consumer Product Safety Commission (CPSC) as an accredited laboratory for the Consumer Product Safety Improvement Act (CPSIA) third-party testing. Our worldwide laboratories perform testing to all regional regulatory standards including California Proposition 65 (Legislation AB 2901 Chapter 575). We hold Notified Body status under the EU Toy Safety Directive 2009/48/EC and EU Low Voltage Directive.
UL is a long trusted brand for product safety testing. The UL Toy Safety Certification Mark was created with the safety of your youngest consumers in mind. You will strengthen consumer confidence in the quality and safety of your products through the three-step certification program.
Here's your chance to set your products apart from the competition. Demonstrate your commitment to product safety and compliance by participating in the UL Toy Safety Certification Program. Learn how the UL Mark gives your product the safety assurance that toy shoppers desire.