The Responsible Jewellery Council (RJC) is the leading social auditing framework for the global fine jewellery supply chain, providing confidence and trust to the industry and consumers that jewellery, precious metals and diamonds are produced and sourced responsibly.
The RJC material scope includes diamonds, gold and platinum group metals. It was recently announced that this scope will be expanded in 2018 to include silver and colored stones.
The RJC was created by 14 founding members in 2005. These founding organisations from the diamond and gold jewellery business were ABN AMRO, BHP Billiton Diamonds, Cartier, the World Jewellery Confederation, the De Beers Group of Companies, Diarough, Jewelers of America, the National Association of Goldsmiths (UK), Newmont Mining, Rio Tinto, Rosy Blue, the Signet Group, Tiffany & Co., and Zale Corporation.
Today, with over 1,000 members that include large and small businesses spanning the fine jewellery supply chain from mine to retail, the organization is scaling up and poised for the future.
Ainsley Butler, Responsible Sourcing Program Manager at UL, interviewed Anne-Marie Fleury, Standards and Impact Director at the RJC, about the process to review and update the leading standards for the fine jewellery supply chain.
Ainsley and Anne-Marie work together as part of RJC's multi-stakeholder Standards Committee.
—-
Ainsley: What can you tell us about the RJC's standards?
Anne-Marie: We have the Code of Practices (COP), which is mandatory for all our members. We also have the Chain of Custody for gold (COC), which is voluntary. The COP focuses on business practices and the COC focuses on material — it allows companies to engage in a segregated, fully-traceable chain of custody.
Ainsley: What is the current context for the revision of the RJC standards?
Anne-Marie: RJC has passed some significant milestones. We're really starting to scale up and it's a very dynamic environment at the moment. We have a fantastically solid foundation and we're growing, we're developing, we're refining and improving quite actively.
We have just completed reviewing the COC and it is now live. In 2018, we will be revising the COP.
Ainsley: What is the review process for the standards?
Anne-Marie: When I started at RJC two years ago, we looked at the standards and what our review processes would be. Since we first developed the COP, we have committed to regular revisions so that we remain relevant. We learn from the implementation of our standards and the certification process, and it continues to evolve.
The COC was released in 2012 and this is the first time we reviewed it.
Our review process follows guidance set out by the ISEAL Alliance, which give us a very clear framework that relies on transparent communications and stakeholder engagement.
Ainsley: We have been working together with our counterparts on the standards committee. Although it can be challenging to engage with such a large group, this multi-stakeholder approach brings a lot of credibility to the standard-setting process and a richness of perspectives and expertise. What are some of the positives that you've experienced during the process of having access to the multiple resources on the committee?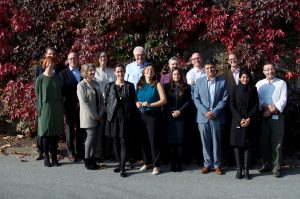 Photo courtesy of the RJC. RJC Standards Committee members in Mendrisio, Switzerland, October 2017.
Back row, left to right: Marco Quadri, Director, Argor-Heraeus; Charles Chaussepied, Director, Piaget; Cecilia Gardner, former President, CEO and General Counsel, Jewelers Vigilance Committee; Wilfried Hoerner, President of the RJC Board of Directors and former CEO, Argor-Heraeus; Andrew Cooper, Standards Specialist, RJC; Claus Teilmann Peterson, Vice President, Group CSR, PANDORA Jewellery; Alan Martin Senior Researcher, Illicit Trade and Financing, IMPACT. Front row, left to right, Bethan Robson Herbert, Certification and Impacts Manager, RJC; Jennifer Hillard, President, Canadian Diamond Code of Conduct; Claire Piroddi, Sustainability Manager W&J Kering, Boucheron; Anne-Marie Fleury, RJC Standards and Impact Director; Ainsley Butler, RS Program Manager, UL; Hany Besada, Deputy Executive Director, Diamond Development Initiative; Purvi Shah, Product Integrity Manager External and Corporate Affairs, De Beers Group of Companies; Felix Hruschka, Standards Coordinator, Alliance for Responsible Mining (ARM).
Anne-Marie: The multi-stakeholder process has made things much slower than if we had done a review in-house, behind closed doors, but the result is much, much richer.
We've had some fantastic input. Some of the questions we get are tough. We need to think through what should be done within each standard to be able to answer those questions. The standard is much stronger as a result. There's no doubt that there is a clear gain in quality.
Ainsley: The RJC has a cross-recognition process for other standards. You also have partnerships with complementary initiatives, such as the Diamond Development Initiative, an important partner for UL. How does this contribute to your work as Standards and Impact Director?
Anne-Marie: One of the things I really love about RJC is the effort to align with, recognize and accept other audits. This is one of the basic tenets of RJC's approach. I think that's fabulous. A lot of other standard-setting organizations talk about proliferation of standards and the need to align, but then don't really do anything about it.
Ainsley: It's interesting how RJC thought through how to include the entire supply chain. This seems to be quite unique to RJC.
Anne-Marie: It's very much part of the core of what RJC is about. For example, RJC was early to recognize artisanal and small-scale mining, which has often been ignored by mining-focused initiatives. This is an example of how cross-recognition and inclusiveness are defining characteristics of RJC.
In terms of recognition of other standards, we have defined this in our assurance approach — how we do the certification and the auditing. For several provisions in our standards, we say that certification against an external standard is sufficient to demonstrate compliance. No further work is required. For example, we recognize SA8000, ISO 14001, OHSAS 18001. Also, Fairtrade, Fairmined, London Bullion Market Association (LBMA) Good Delivery, and the World Gold Council's Conflict-Free Gold Standard. There are others.
Ainsley: I would imagine that there's strong support for this approach because it leverages companies' efforts in sustainability. Is that echoed to you through RJC's membership?
Anne-Marie: Oh, absolutely. We do our utmost to recognize equivalent standards whenever possible. An equivalency assessment is very important, in terms of the subject matter of the standard and how it's certified, checked, assured. We do not risk undermining the integrity of our own system.
Ainsley: I know that you've come to the RJC from the mining sector. How has your understanding of mining helped you engage with the range of members and issues in the fine jewellery supply chain?
Anne-Marie: It has been particularly useful because everyone in the supply chain looks to that upstream producer level in some shape or form when they look at sustainability of their product.
Coming to the RJC with a strong comprehension of mining issues, such as the scale of environmental problems or the question of free prior informed consent when there are land access issues is helpful — these issues are quite complex. I think it would be difficult to gain an in-depth understanding of mining while trying to cover the whole supply chain, which is our focus at RJC.
UL experts provide regular contribution to blogs of interest to the Consumer and Retail Services community.  Join the discussion and learn from your peers.
Share