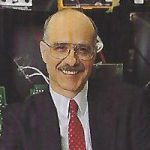 When Dan Mordini graduated with his degree in electrical engineering, vacuum tubes were part of the curriculum, and UL looked very different than it does today. That was nearly 46 years ago, and, at the beginning of 2019, Dan will walk out the doors of UL's Northbrook headquarters for the last time. Though he's looking forward to retirement and we're happy to see him take this next step, it's a bittersweet moment all around.
"I love my clients," says Dan, looking back on his career. "I love the people I work with. As soon as that phone rings or an email comes in and I can help somebody, I'm on it." This eagerness to help and teach carried through his entire tenure at UL and his life in general. Over the years, Dan helped develop the UL Certification program for rebuilt motors in hazardous locations, helped strengthen the circuit breaker market by coauthoring a completely redeveloped follow-up and testing program, and was instrumental in establishing UL's relationship with retailers around the world. Meanwhile, outside of the office, he stayed busy by coaching youth bowling.
From his beginnings as an Engineering Assistant with UL's Follow-up Service to his final position as Senior Staff Engineer of Retail Services, Dan's made several stops along the way. But wherever he has landed, he has always looked to teach the next wave of UL experts, learn from those that came before him, and remain a trusted source of help and support for UL's clients. In an increasingly divided world, this is no small accomplishment, but it is all part of what makes Dan so valuable. "You can agree to disagree with people, you just have to keep it civil," he says of what's helped him continue to learn and grow at UL. "You don't know everything, so you draw heavily on the knowledge of others."
We certainly agree, but we know one thing for sure: Dan will be missed by colleagues and clients alike.
Thank you for 46 years, Dan!
Please continue to contact Retail@​ul.​com for any further questions or information.
Share