UL's Responsible Sourcing Program is dedicated to advancing sustainable business practices within supply chains, worldwide. Drawing on 20+ years industry leadership, we partner with manufacturers, brands and retailers to provide tailored solutions to responsible sourcing challenges across a variety of industries and regions. UL has a global team of subject matter experts in the areas of social responsibility, environmental responsibility, brand protection, supply chain security, extractives and raw material sourcing.
UL's Responsible Sourcing eLearning Platform offers more than 1,500 multi language trainings for brands and retailers supply chain.
UL takes a customizable and holistic approach to support our clients in developing their responsible sourcing program based on our client's unique business strategy and supply chain. UL's Responsible Sourcing Program consists of 6 integral pillars: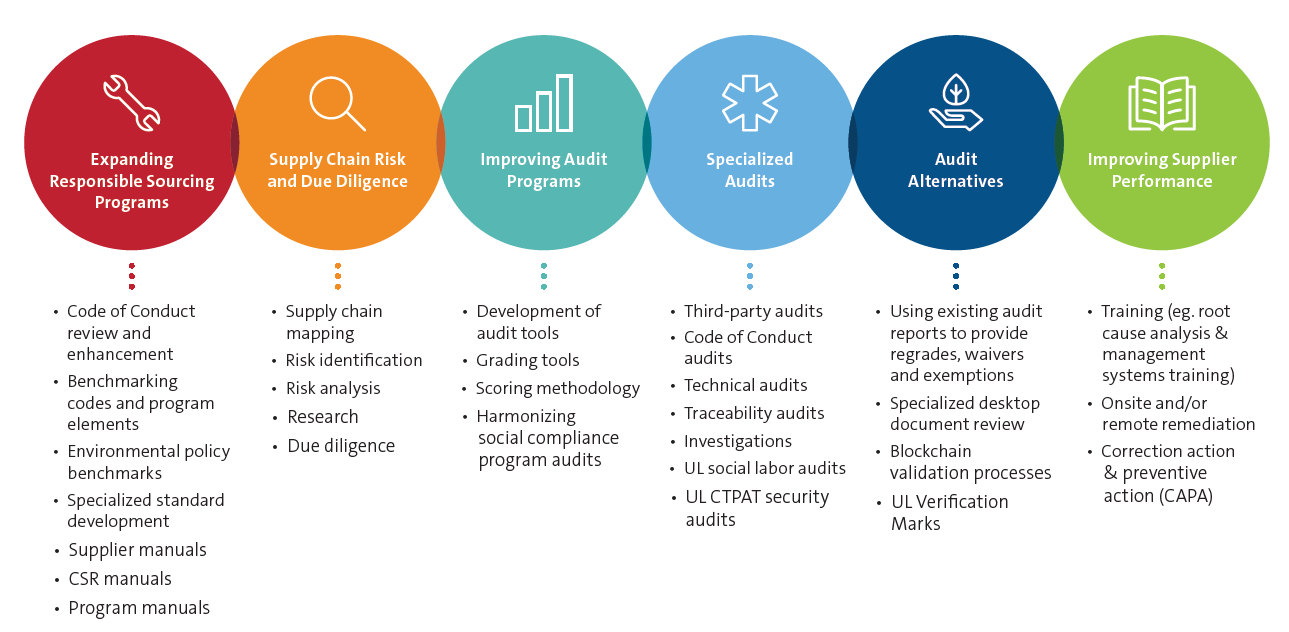 Whether you want to build a responsible sourcing program from the ground up or are interested in improvement or innovation of an existing program, UL's strategic approach can help all companies address supply chain responsibility issues and fulfill corporate social responsibility goals:
Responsible sourcing




A strategic approach to supply chain risk management

Building a program foundation


UL helps to build social responsibility program foundations through supply chain standards development, creation of policies and procedures, establishment of auditing programs, and benchmarking against industry standards.

Analyzing and prioritizing risk


UL helps companies analyze and prioritize risks through supply chain mapping and desktop and field research, with tools, such as risk indices and self-assessment questionnaires.

Improving supplier performance


UL supports program adoption and implementation through targeted communication with internal staff and suppliers by developing tools and approaches, such as supplier manuals and training.

Educating clients and suppliers


UL has a team of dedicated specialists who can help improve supplier performance through capacity-building engagements, such as corrective and preventative action plan management, supplier training and consultation, as well as program data analytics and Key Performance Indicators.

Auditing


UL supports both brand-owned auditing programs and audit schemes, can execute special assessments and investigations, and provides its own audit approach through UL proprietary social, environmental, traceability, security and brand protection tools.

UL supports the following audit schemes:
— amfori's Business Social Compliance Initiative (BSCI)
— amfori's Business Environmental Performance Initiative (BEPI)
— Alliance for Responsible Mining Fairmined Standard
— Higg Facility Environmental Module (Higg FEM 3.0)
— ICTI Ethical Toy Program (IETP)
— Initiative for Compliance and Sustainability (ICS)
— London Bullion Market Association (LBMA) Good Delivery
— Responsible Business Alliance (RBA) Validated Assessment Process (VAP) and non-VAPResponsible Minerals Initiative (RMI) Responsible Minerals Assurance Process (RMAP)
— Responsible Jewelry Council (RJC) Code of Practices and Chain of Custody
— Seafood Task Force Traceability and Vessel Assessments
— Supplier Compliance Audit Network (SCAN) Association
— Sedex Members Ethical Trade Audit (SMETA)
— Worldwide Responsible Accredited Production (WRAP)

UL also provides the following proprietary audit services:
— Responsible Sourcing Workplace Assessment (RSWA)
— Responsible Sourcing Agricultural Assessment (RSAA)
— Chemicals Management Audit
— Environmental Audit
— Wastewater Assessment
— Fire Safety Management Systems Audit
— Brand Protection Audit
— Production Verification Assessment
— Security Audit
— Customs Trade Partnership Against Terrorism (CTPAT) Audit
— Traceability Audit
— Conflict Minerals Due Diligence Assessment
— Conflict Minerals Supplier Verification Assessment
In an effort to continuously enhance our expertise and positively impact the industries in which we serve, UL engages in a thought leadership capacity with various key associations and industry groups which support the advancement of social compliance and responsible sourcing worldwide: